The Body
This is my work log of how work with the body progressed:
When doing this, do not forget to think about the neck too. There are many things to keep in mind, one example is how the distance of the neck effects the location of the bridge. I made both the body and the neck at the same time.
Before you commence with this you will need to choose what dimensions you want for your neck, you should also consider if you want to use a truss rod or not. I decided the dimensions during the work, but I do not recommend it.
12th of December:
Today I fastened the neck, I have also made a newer sketch of the pickguard.
I will have to see what my next step is. Since I need to get a hold of new screws for the head before fastening the tuners, I do not want to fasten the head to the neck yet. I will probably go with making a template of the pickguard and of the cover to the control cavity. I will also have to order four potentiometers soon, so that I can drill the correct depth for them.
13th of December:
Today I trained a bit with the dremel, as you know I will write my name and year on a piece of metal that will be fasten inside the pickguard.
Here is a picture: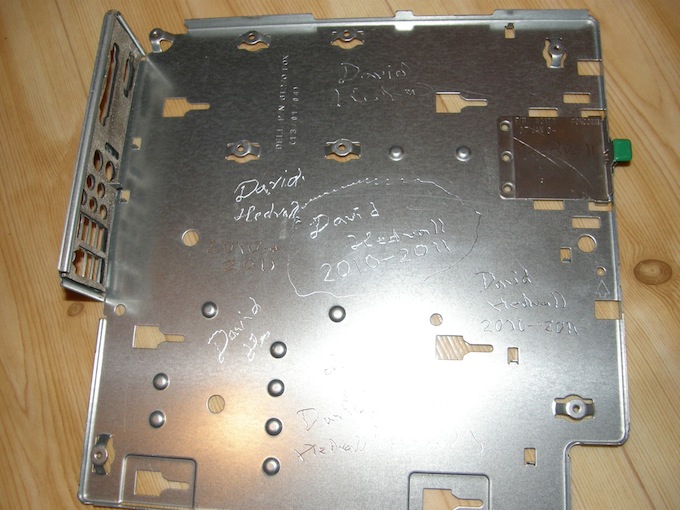 As you can see it does not look too bad, at least not compared to my handwriting :p
22nd of December:
Today I started to look into making my own knobs. I made two test knobs, but I will have to buy better equipment since they are a bit to big for my taste.
I have also placed an order of a couple of piezo elements.
23rd of December:
Today I used the template that I made earlier, the result is as you can see below. If I had be more careful when making it it would have made a perfect fit, you can see this by comparing the pictures.
The markings is where I plan to place the screws later on, the cover will be made out of oak just as the body.
26th of December:
Today I have tested to fasten the strings on the balalajka, and it seems like the neck can stand the pressure without any trouble. In conclusion the neck is a success, now it really feels like it is starting to take its final shape, but there is still much to be done.
I have also worked with the body a bit by using sandpaper...(This is not shown on the pictures above, as they were taken before.)
The total weight of the instrument is now somewhere between 3,0 and 3,6 kilos, so it is not as high as I feared that it would be.
When I had removed the extra wood I wanted to restring it and I recorded how it sounds. I did not use any amplification at all, the microphone was placed near the body. The tapping in the middle is when I taped it at various location to hear what it sounds like.
Click here